Protecting The Swirl: Prince Harry Issues A Rare Statement Defending His Girlfriend Meghan Markle From The Racist And Sexist Media
Dating royalty sounds like a dream, but unfortunately the real world was not produced by Disney. Yeah, you might live a lavish life while dating a Prince; however, the royal package also comes with a lot bullsh*t, thanks to the media.
Prince Harry met actress Meghan Markle in Toronto earlier this year while he was in town for the Invictus Games. Markle lives in Toronto because that is where her TV series Suits is filmed. Her mother is African-American and her father is Caucasian.
We bring this up because the British media seems to be obsessed with this. Once they figured out they were dating, they tried to find out as much information as they could about Markle's life. And not surprisingly, their reports were littered with subtle racism.
The Daily Mail headlined a story about the actress with this: "Harry's girl is (almost) straight outta Compton," because her mother is reportedly from a "run-down area" in Crenshaw, Los Angeles.
In addition to that, photographers have attempted to break into her home and her ex-boyfriend has received "substantial bribes" by several newspapers to talk about Markle.
All of this has made Harry do something he typically doesn't do. The Kensington Palace released a statement to the media, explaining that the line has been crossed.
"His girlfriend Meghan Markle has been subject to a wave of abuse and harassment. Some of this has been very public — the smear on the front page of a national newspaper; the racial undertones of comment pieces; and the outright sexism and racism of social media trolls and web article comments. Some of it has been hidden from the public — the nightly legal battles to keep defamatory stories out of the papers; her mother having to struggle past photographers to get to her front door."
The statement continues by saying how disappointed Harry is. He feels bad about not being able to protect her and is constantly worried about her safety.
He's hoping this statement will make the media pause before releasing more stories. He wants them to actually think about their actions, which probably won't happen. It's a nice try though. We give him credit for putting himself out there.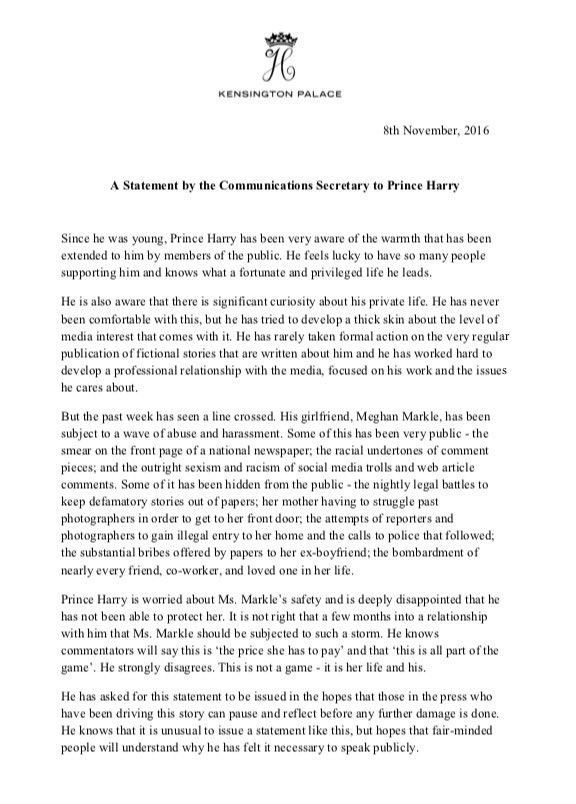 But it's not going to stop. This is what the media/internet does. We want to destroy people. It's sick. Just think about Ken Bone. The dude didn't ask for his viral fame. He didn't ask a silly question in an attempt to get famous. The internet just liked his name, outfit, and facial hair and decided to make him a star.
And then, because no one is allowed to be happy, they went digging through his history on Reddit in hopes of finding something negative. When they couldn't find anything particularly damaging, they started to invent sh*t and twist his comments.
It's strange. Happiness makes people uncomfortable, especially when they're not involved.
---