American Idol's Fantasia Barrino Cancels Concert After Suffering Second-Degree Burns On Her Arm (PHOTO)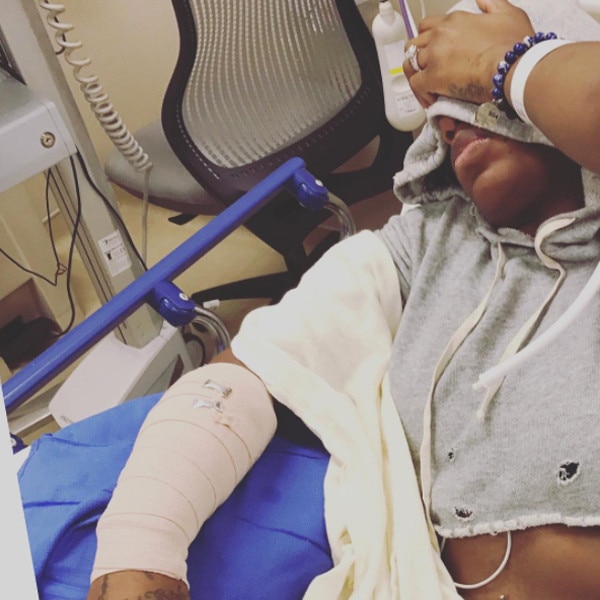 This is an 'American Idol' loving website. We will never let the show go, and we will continue to follow the artists the show has created. Yes. Even Taylor Hicks, who by the way, is enjoying life. He's worth a little over $2 million and has a surprisingly large fanbase.
Anyway, let's talk about Fantasia Barrino. She had one of the most powerful voices in the show's history. It felt like nothing could stop it.
But the 32-year-old singer was forced to cancel a concert in Tennessee this week after suffering a pretty serious burn on her arm. She had second-degree burns covering her arm. You can see her all bandaged up inside the hospital in the photo at the top of this page.
A rep for the singer released the following statement…
"Fantasia suffered a minor accident yesterday afternoon and is resting comfortably. At this moment, our plan is to resume the tour in Los Angeles on Wednesday at the Microsoft Theater. She thanks all of her fans for their kind messages of love and support, and is looking forward to getting back out on the road."
Nice to see hear she's resting comfortably now, 'cause she certainly doesn't look comfortable in that photo. She looks to be in some pain.
Fantasia's husband went on social to share a little more information…
"My Wife experienced an accident today causing 2nd degree burns on her arm. She's steady asking the Doc 'Can I perform tonight?' But we must be wise and realize this isn't a race, but rather a marathon. So Memphis, our team is already working to create a means that she can redeem this time with you. She had something truly special planned for tonight. So please, keep my Queen lifted in prayer."
You heard the man. Lift her up with your prayers.
---