Eminem's Ex-Wife Kim Scott Rushed To Hospital After Apparent Suicide Attempt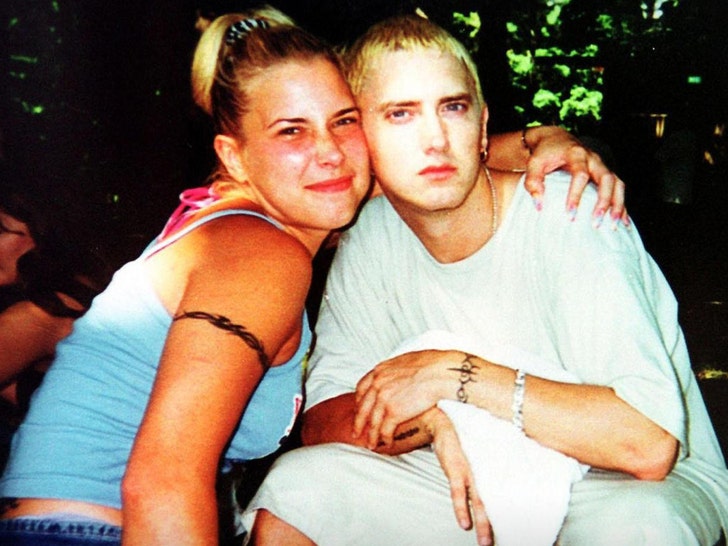 We all know about Kim Scott because Eminem threatened to set her on fire in like every single one of his songs. Their relationship was clearly not a healthy one, and honestly, it's amazing they made it out alive.
And while Eminem has managed to turn his life around and stay clean, Kim still seems to be struggling.
It's being reported that back in late July, police were called to Scott's home in Michigan after receiving reports of a suicidal person. When police arrived at the scene, Kim was extremely defensive and had to be detained by the officers.
She was so violent that paramedics couldn't even properly check her vitals.
Our sources say it appeared Kim had cut herself, as she had several small lacerations on the back of her leg and a good amount of blood was on the floor.

Kim was rushed to a hospital for both medical and psychological evaluation, but is now back at home and is recovering. It's unclear if she's getting additional care.
Hopefully she's able to get some help. The now 46-year-old first met Eminem back in 1989 when they were both teenagers. She ran away with her sister and they moved in with Eminem at a trailer park.
They got married in 1999 but divorced just two years later.
They married again in January 2006, but divorced in April of the same year and agreed to share custody of Hailie. Their relationship has also been reflected in Eminem's music, with the singer penning controversial track 'Kim' – which appeared on 2000's 'The Marshall Mathers LP'.
Sadly, this isn't Kim's first suicide attempt. She tried to commit suicide back in 2015 as well.
After her overdose, she thanked Eminem for his support during her recovery, "He's been real supportive. We're really close," she said at the time.
Here's to hoping she can get her mind back on the right track.
---