Terrell Owens Is Extremely Confident He Can Make A Return To The NFL At Age 47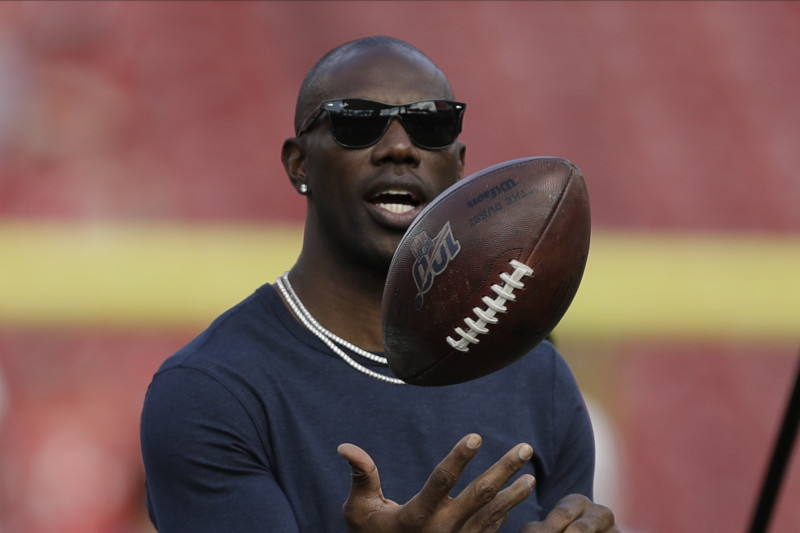 At 47-years-old, Hall of Famer Terrell Owens says he's still interested in making an NFL comeback, and he's confident he could do it.
Owens last played in the NFL for the Cincinnati Bengals in 2010. That's right. He hasn't played a single game in the NFL for 11 years, but he's still 100% confident he can make a grand return.
In an interview with TMZ Sports, Owens claims he recently ran a 4.4-second 40-yard dash.
I'm not washed up. Once you know how to ride a bike, you know, you don't forget how to ride that bike. … There's no doubt, 100 percent, that I can play in the National Football League today.
At his peak, Owens was dominating the league, highlighted by a stretch where he scored at least 13 touchdowns in seven seasons over the span of 10 years from 1998 to 2007.
Even in his last season in 2010, he was still productive on the field, but in the 2011 offseason he suffered a torn ACL, and that was pretty much the end of his career. He did sign with the Seattle Seahawks in 2012 but lasted only three weeks before being released.
In this new interview with TMZ, Owens claims he hasn't stopped training…
I've been on the track, and, honestly, I just ran probably like a week ago. I was clocked at like a 4.4. Faster than I probably ever have in probably in a while.
Owens claims he got some interest from at least one individual in the NFL this summer, and this person told him to stay in shape because it's possible they may sign him this upcoming season.
In the meantime, while Owens waits for a possible call, the receiver is launching a new season of his 'Getcha Popcorn Ready with T.O. and Hatch' show on Fubo Sports Network.

The program — which Owens promises to remain an awesome, unfiltered opinion sports show — launches its TV premiere on Aug. 22 at 8 PM ET.
---