Britney Spears And Her Boo Sam Asghari Are Engaged…BUT IS THERE A PRENUP?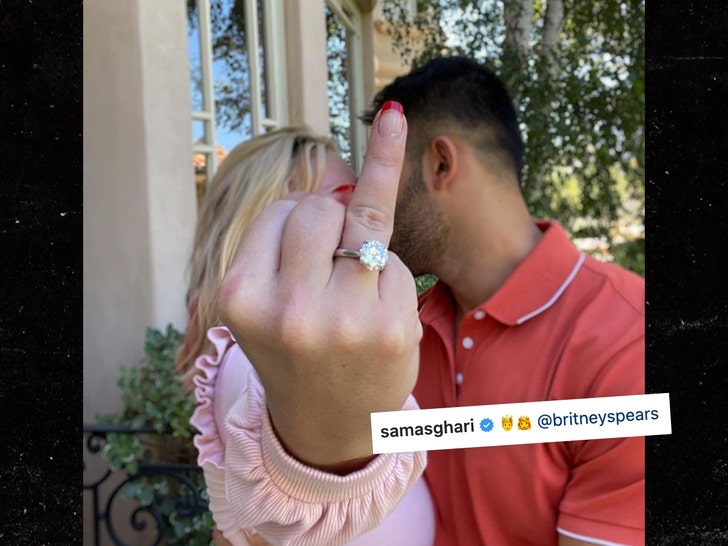 Well, the rumors have been confirmed. It was reported a week or so ago that Britney Spears' boyfriend Sam Asghari was ring shopping in the LA area.
And then on Sunday, September 12, Spears confirmed the engagement news to the whole word.
She posted a video showing off the huge ring, which was appropriately located on that special finger. She captioned the clip, "I can't f**king believe it!" followed by a bunch of ring emojis.
In the clip, Sam asks Britney if she likes it, and Britney approves, screaming 'YES!!!' and giving him a peck on the cheek.
Obviously the post received lots of comments, including one from actress Octavia Spencer, who warned Britney, "Make him sign a prenup," which led to dozens of people saying the same thing. A lot of people don't trust this Sam character. They believe he's taking advantage of Britney.
To his credit though, he responded to the prenup comments on his own Insta Stories.
Sam took to his own Instagram Story to confirm that he and Britney will sign an 'iron-clad prenup.' He also joked that the legal document was to protect his 'jeep and shoe collection' rather than her assets. According to Celebrity Net Worth, Britney is worth $70 million.
Sam's manager, Brandon Cohen, confirmed the engagement news, revealing Sam popped the question on Sunday at Britney's home.
The couple made their long-standing relationship official today and are deeply touched by the support, dedication and love expressed to them.
Well, congrats…I guess? I don't know. This whole Britney Spears drama weirds me out. She's obviously not okay mentally, but people are trying to act as if she is because they believe she's being controlled by her father.
But…BOTH THINGS CAN BE TRUE! Her father can be a terrible person who only wants her money, and Britney can be mentally unstable.
Hopefully this Sam dude has only good intentions, but we doubt it.
---