'Degrassi' Writer Claims Drake Took Legal Action To End Jimmy's Time In A Wheelchair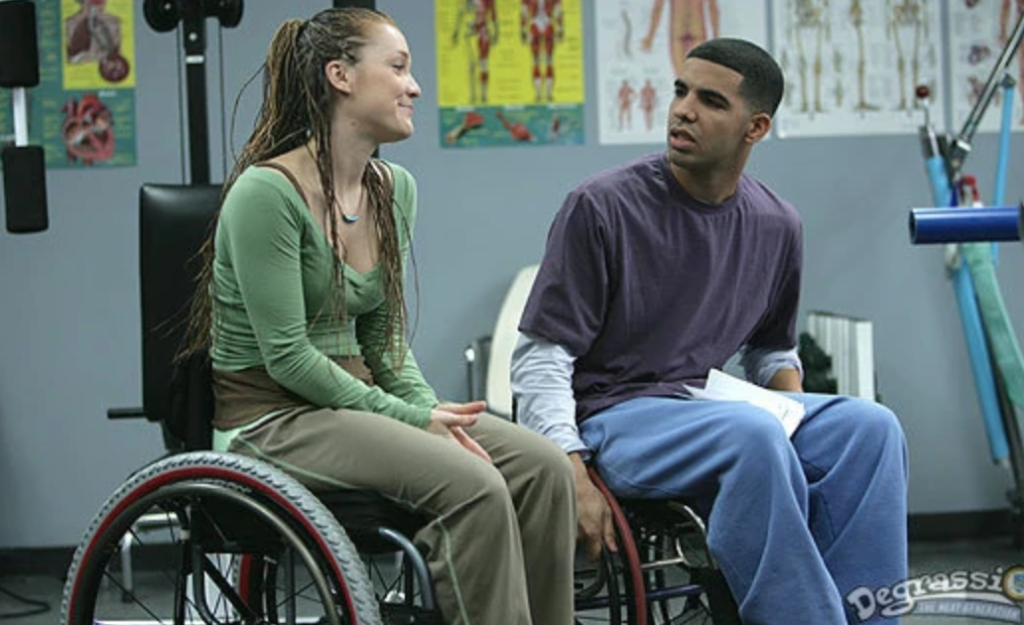 Before Drake became one of the best-selling rap artists in all the land, he was known around the block as Wheelchair Jimmy. He starred on the first seven seasons of 'Degrassi: The Next Generation'
And in season four of the show, his character was left paralyzed after a school shooting. This meant for three seasons, Drake had to be inside a wheelchair on set for hours and hours every single day.
Not only was that physically demanding, it was also a bit of a mental battle because his friends were making fun of him. This led to Drake threatening to quit after season five if his character remained in a wheelchair.
In a cast roundtable for the AV Club, James Hurst (a writer for the teen drama) revealed that Drake actually took legal action.
There was a letter from a law firm in Toronto, and it was from Aubrey. It was an odd letter that said, 'Aubrey Graham will not return to Degrassi season six as Jimmy Brooks unless his injury is healed, and he's out of the wheelchair.' I said, 'Get him down here.'
When Drake walked inside the room, he was asked about the letter, "What letter? I don't know about that," he said, trying to play it cool.
And I said, 'All right, I understand. But how do you feel about the wheelchair?' He's like, 'All my friends in the rap game say I'm soft because I'm in a wheelchair.' And I said, 'Well, tell your friends in the rap game that you got shot. How much harder can you get? You got shot, and you're in a wheelchair.' He was like, 'Yeah, yeah.' He was so nice and apologetic about everything. He instantly backed down.
The writer then talked to Drake about how he could be a hero for kids confined to a wheelchair. He told Drake that those kids rarely get featured on television, so this was his chance to show them they're not ignored.
That must have worked on Drake because he starred for two more seasons. His final appearance was in a season 8 episode in 2008.
Lauren Collins, who co-starred on the show, had this to say about the wheelchair drama…
I don't want to speak for anyone, but I think [Aubrey] probably struggled with the idea that he was one of two Black characters on the show, and that he was the one who was winding up shot and in a wheelchair, which obviously is part of a much larger conversation.
And then you have the whole conversation about how if they were going to have a character inside a wheelchair, then maybe they should have hired an actor who actually needed a wheelchair in real life.
There is a lot of layers to this.
---