Video Shows Henry Ruggs And His Girlfriend Crying And Yelling Minutes After Deadly DUI Car Crash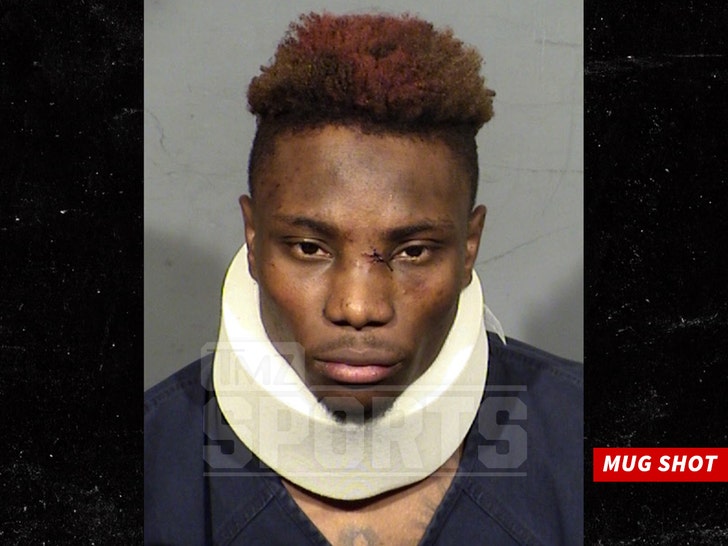 If you haven't been following the news, the now former Las Vegas Raiders wide receiver Henry Ruggs III killed a woman and her dog while drinking and driving early Tuesday morning.
Ruggs was driving his Corvette at around three in the morning on Tuesday with his girlfriend, Kiara Washington, in the passenger seat. And according to the early reports, Ruggs was driving at nearly 160 mph down a side street.
At some point, he lost control of the vehicle and slammed into the back of a Toyota RAV4, which had a woman and her dog inside. The impact killed both the woman and the dog. The crash ruptured the RAV4's fuel tank, which ignited a fireball, as you can see in the video below.
Speaking of this video. It's new, and it shows Ruggs and Washington moments after the crash. They are sitting together on the ground just yards away from the woman's burning vehicle.
Ruggs can be heard crying and yelling as Washington tries to keep him awake. He was apparently drifting in and out of consciousness. Washington cried out for help, meanwhile the woman they slammed into was burning with her dog just yards away.
It shouldn't surprise you to learn that Ruggs was intoxicated.
In police documents, cops say he was going 156 MPH just before the crash … and ultimately hit the Toyota at 127 MPH. Prosecutors later said bloodwork showed he had a BAC of .161 — more than two times the legal limit of .08. Bauman said Ruggs was uncooperative with police and medical workers,

They added the 22-year-old also had a gun in the Corvette.
Ruggs was released by the Raiders following the crash. His career in the NFL is over.
He appeared in court on Wednesday in a wheelchair and foam brace around his neck. He's facing felony charges of driving under the influence of alcohol resulting in death and reckless driving.
Las Vegas Justice of the Peace Joe M. Bonaventure said he was troubled by his initial review of the case against Ruggs, adding that in 16 years on the bench he had never heard of a crash involving a vehicle traveling so fast.
Ruggs' bail was set at $150,000 with strict conditions to include home confinement, electronic monitoring, no alcohol and no driving. He also had to give up his passport.
Probation is not an option in Nevada for a conviction on a charge of DUI causing death or DUI causing substantial bodily injury. Both carry a possible sentence of two to 20 years in state prison. Added to a possible one to six years for reckless driving, Bauman told Bonaventure that Ruggs could face up to 46 years behind bars if convicted.
Our thoughts and prayers go out to the poor woman who lost her life due to Ruggs' disgusting joy ride.
---