Aaron Rodgers Says He Got Emotional After Returning To The Field On Sunday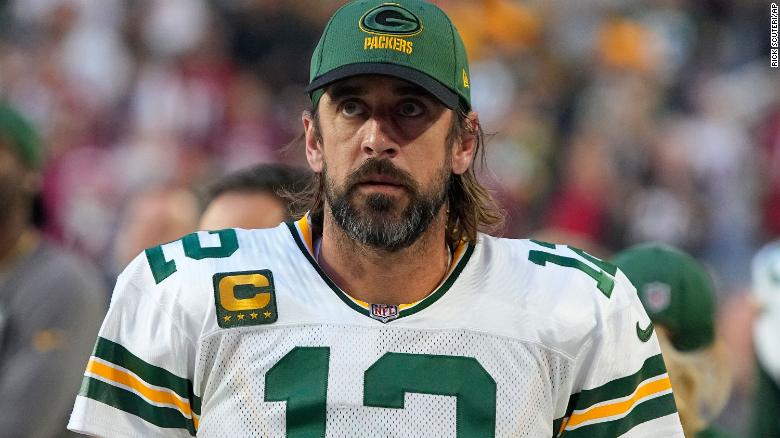 Despite lying about getting vaccinated and breaking lots of COVID-19 protocols, Aaron Rodgers was warmly welcomed back by the NFL this past Sunday, November 14.
He missed last week, due to testing positive for the virus, and then had to answer for his comments against the COVID vaccine. The NFL fined the Packers for breaking COVID-19 protocols, but the fine was just $300,000, which is nothing for the franchise. Meanwhile, Rodgers was fined a paltry $14,560. He makes that in like an hour.
So really, nothing happened to Rodgers. He returned to the field on Sunday to take on the Seattle Seahawks. The Packers pretty much dominated the game and won 17-0.
Following the game, Rodgers spoke during a post-game press conference and revealed he got emotional following the win.
Good to be back with the guys, good to be back at home, good to be on the field, really. The most emotions from the whole night was probably walking off the field after the game. It definitely got me a little misty. It was good to feel those types of emotions and good to be back with the guys. I just don't take these things for granted, walking off the field as a winner. It's fun beating that squad. We've had some battles over the years.
He also talked about hearing the positive reaction from the crowd, who cheered him on with a little more passion on Sunday.
As we mentioned before, it's certainly interesting to see the response to Rodgers, especially if you compare it to how Colin Kaepernick was treated after simply taking a knee during the national anthem. One person was basically kicked out of the league, the other one was welcomed back with open arms.
For what it's worth, Rodgers did offer up an apology (kinda) to people who felt like he lied about getting vaccinated. If you don't remember, he said months back he was "immunized" leading people to believe he was vaccinated.
To anybody who may have felt misled by those comments, I take full responsibility for those comments. I'm excited about feeling better, I'm excited about moving forward. I'm human, stuff can definitely hurt your feelings. I shared an opinion that is polarizing. … In the end, I have to stay true to who I am and what I'm about and I stand behind the things that I said. … I have no judgment.
---