MTV's 'The Challenge' Star Nelson Thomas Suffers Broken Nose After An Angry Husband Punches Him In Vegas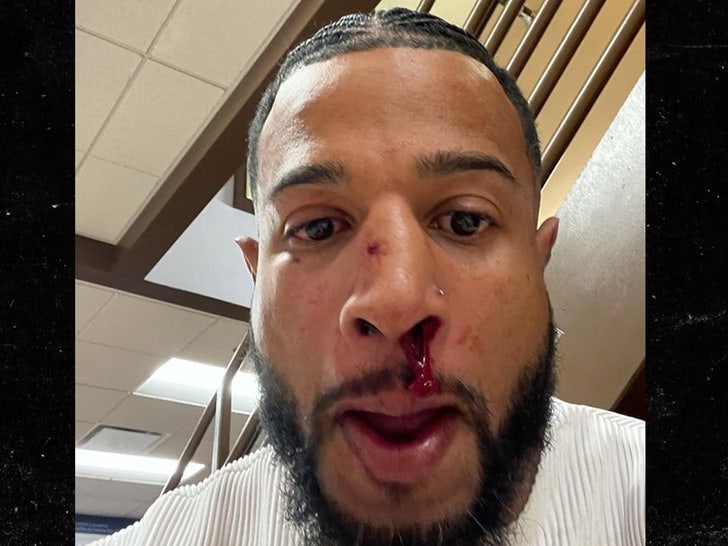 Well, it turns out what happens in Vegas does not stay in Vegas. Nelson Thomas, the 33-year-old 'Challenge' star was in Sin City when he was allegedly sucker punched outside the ARIA Resort & Casino.
When news of this story first broke, the reports claimed Thomas was punched by an angry husband who believed Thomas was flirting with his wife while standing outside waiting for the valet.
Cops saw video of this incident, and they claim in the clip, Thomas was talking to a woman when the husband, Kevin Dixon, came out and punched him. And the punch was severe, knocking Thomas out cold and leaving him with a broken nose.
The swelling was so severe that Nelson had to wait a while before doctors could even treat him. Dixon, the man who punched him, was arrested for battery and grand larceny.
And you might be thinking, "What? Grand larceny? For what?" Well, Nelson's side of the story is a little different. He claims he was NOT flirting with the married woman. In fact, he says he'd never flirt with a married woman. We're not so sure about NEVER, but he claims that night he definitely wasn't.
He claims the video shows he was only outside in the valet area for around 10 seconds before being sucker punched by this dude. He says that's not enough time to flirt with someone.
Nelson also revealed the dude stole his $10,000 chain necklace, which is where the grand larceny charge comes in.
The criminal who attacked me lied to the cops because we tried to find her for questioning and he never showed up to a court date. The guy is a criminal. He snuck up on me, attacked me, then robbed me.
The reality star also thanked the doctor who fixed his nose, claiming he saved his a**.
He included painful video and photos of his recovery…
Crazy stuff. Be aware of your surroundings at all times! It's scary out there. And honestly, don't be afraid of backing down from a fight. It ain't worth it. One punch to the face and knock on the ground can end your life. Or you could accidentally end someone else's life and be hit with manslaughter.
Walking away is usually the best option.
---