WHAT? Tiger Woods Returning To Golf, Will Compete In PNC Championship With His Son!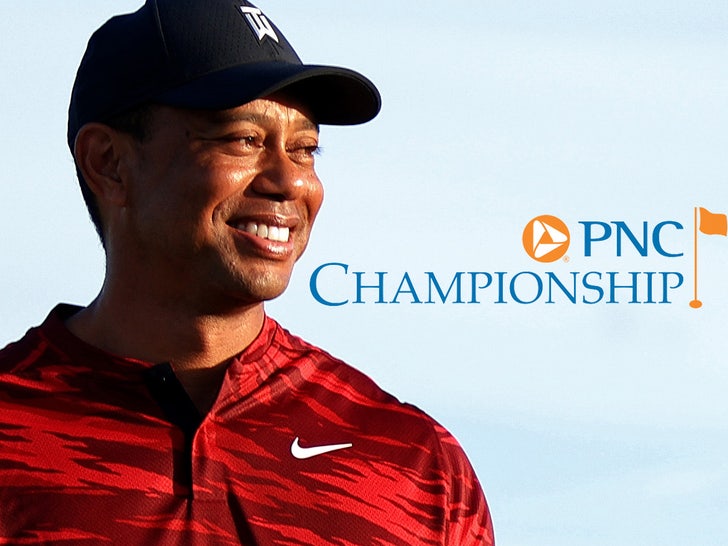 Was Tiger Woods just playing all of us earlier this month when he claimed he wasn't even at the "halfway point" in his recovery?
As you all know, the golf legend got into a serious car crash back in February and messed up his leg in a bad way. He's had to have several surgeries and basically had to learn how to walk again for the past nine months.
During a recent interview, he said this…
I have so far to go … I'm not even at the halfway point. I have so much more muscle development and nerve development that I have to do in my leg. At the same time, as you know, I've had five back operations. So, I'm having to deal with that.
But at the same time, more videos have been popping up of him swinging the club.
Look at this video from last week…
Sunday red. ? pic.twitter.com/FehCVHhzCX

— PGA TOUR (@PGATOUR) December 5, 2021
It doesn't look like he's going all-in on that swing, but it still had fans wondering if he was preparing to enter the PNC Championship with his son, Charlie. Some people thought the speculation was crazy, but as it turns out, the rumors were true!
Tiger announced on Wednesday, December 8, that he'll be teaming up with his son to compete in next week's PNC Championship. The event is scheduled to take place on December 16 in Orlando, Florida.
Obviously this tournament is not the Masters, but it's still a huge deal. It's a 36-hole event that'll feature Tiger going up against names like Bubba Watson, John Daily and Justin Thomas.
Tiger told the media:
Although it's been a long and challenging year. I am very excited to close it out by competing in the PNC Championship with my son Charlie. I'm playing as a Dad and couldn't be more excited and proud.
Last year, Charlie and Tiger competed and came in seventh place. It'll be a truly incredible story if they can beat that placement this year.
---