Oh Snap! Sources Say Rihanna And A$AP Rocky Have Split After Cheating Allegations!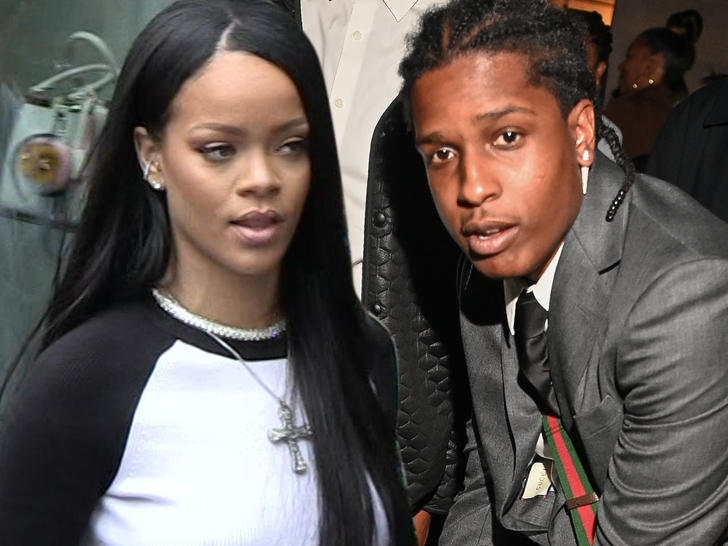 It looks like Drake might need to man up as the stepfather of Rihanna's baby because A$AP Rocky may have just goofed big time.
There is a major rumor going around the internet claiming Rocky cheated on Rihanna with shoe designer Amina Muaddi. You see, Amina has a long history with both Rocky and Rihanna. Insiders say she and Rocky actually dated way back when, and just recently, Amina worked as a designer for Rihanna's Fenty footwear line.
The rumors first started jumping when writer Louis Pisano, famously labeled as Instagram's Messiest Fashion Influencer, claimed Rocky and Rihanna were done.
Rihanna & ASAP Rocky have split. Rihanna broke up with him after she caught him cheating with shoe designer Amina Muaddi. ASAP & Amina is not new though as she was seeing him years ago and also collaborated with him on a collection of shoes.
Pisano claims sh*t hit the fan at a restaurant in LA recently, but one would think if they got into a heated argument at a public restaurant, more people would be talking about it. Although, sometimes those fancy restaurants have private rooms for elite customers.
In any event, the internet has taken off with this rumor, and the Drake memes are going strong.
Drake after hearing Rocky and Rihanna split pic.twitter.com/o0qQGJu3PO

— matthew (@trapqymeal) April 14, 2022
drake texting rihanna pic.twitter.com/k2cq66m2LB

— Spac? ⭐️ (@sadcrib) April 14, 2022
Drake running to Twitter to confirm that Rihanna and ASAP Rocky RiRi broke up.#MusicWithDMEpic.twitter.com/9jQWODFeEf

— El Don ?? (@el_dme_363) April 14, 2022
"I had to call her ASAP when I heard things got Rocky" #Rihanna #Drake #asaprocky pic.twitter.com/KzCLyV5ivg

— Khaneal (@RealTiLNeal) April 14, 2022
It's worth noting that this report hasn't been confirmed by a major outlet. In fact, sources with PageSix claim Rihanna and Rocky are actually still going strong.
"They're fine. It's not true," an insider told the outlet. But of course, that could just be them trying to save face. Although, another source told TMZ that they were "1 million percent" sure the rumors were not true.
So yeah, Drake might want to save that draft for another rainy day.
---