Twitter Is Dragging Viola Davis For Her Awful Performance As Michelle Obama In 'The First Lady'
It's not a good day to be Viola Davis. The 56-year-old actress, who is known for her outstanding performance in 'How To Get Away With Murder', needs to take another course on How To Get Away With Being Michelle Obama.
For those who don't know, Davis stars as Michelle Obama in the new Showtime series, The First Lady. The series follows the wives of presidents across three different decades, including Obama, Roosevelt and Ford. Gillian Anderson plays Eleanor Roosevelt and Michelle Pfeiffer plays Betty Ford.
But it's Davis' portrayal of Michelle Obama that has everyone talking. In a few clips (and photos) circulating the internet, you can see Davis has her lips overly pursed in dramatic fashion. It looks absolutely ridiculous. And while Michelle has been known to do that with her lips on occasion, it's not exactly something she does every single minute of her life, which is what Davis is putting out there.
Take a look at this clip…
— paul (@paulswhtn) April 17, 2022
And then look at this completely ridiculous photo of her character looking like she's about to take a nap, but before she do, she gotta kiss that ghost creeping next to her.
And then look at these comparison photos. They're supposed to be from the same photoshoot, but as you can see, Davis' lips are looking all sorts of crazy…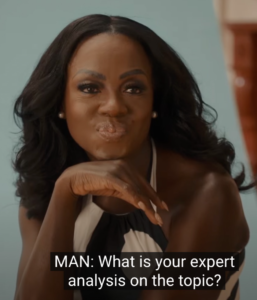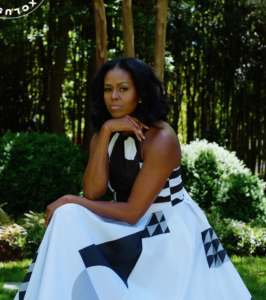 What on earth is she doing? No one wanted to tell her how ridiculous she looked during the entire production? They just let her shoot 10 episodes like that? Come on man.
Twitter is having a field day with this…
Viola's lips when they finished shooting the movie pic.twitter.com/Flu6S1o7ZS

— Chief. (@fruitygangsta) April 17, 2022
This Thing Viola is doing with her mouth is totally unnecessary! I don't see Michelle when she does it , I just see teeth! #TheFirstLady

— AmandaSue THEE JACKET GIRL (@amandasuecustom) April 17, 2022
I love viola davis but I cant take this First Lady thing seriously. The mouth thing looks like satire and she literally could've done without doing it the whole time. That's not how Michelle always looks or talks anyways.

— peaches (@peaches07) April 17, 2022
I usually like Viola Davis as an actress, but why in the tarnation did she insist on doing this with her mouth? It makes it look like a parody. #MichelleObama #violadavis pic.twitter.com/2yHfgAWC9j

— Sha Hartley (@shahartley) April 17, 2022
this zoom ??? https://t.co/ykYA16l9bH pic.twitter.com/0SvTU00VI9

— paul (@paulswhtn) April 17, 2022
Sad stuff, man. What makes this even more tragic is the fact that Davis really did a lot of research for this role because she didn't want to offend Michelle with her performance.
Back in February, Davis had this to say about the role…
You don't want to insult them by your portrayal … As much as we feel like we know Michelle Obama — and I did everything I could to research — there are those private moments where there's some level of creative decision-making that you have to take … There are small minutiae that I can just take creative license with and hope that I'm not insulting her with it.
---