Pete Davidson Is All In, Gets Kim Kardashian's Kids' Names Tattooed On His Neck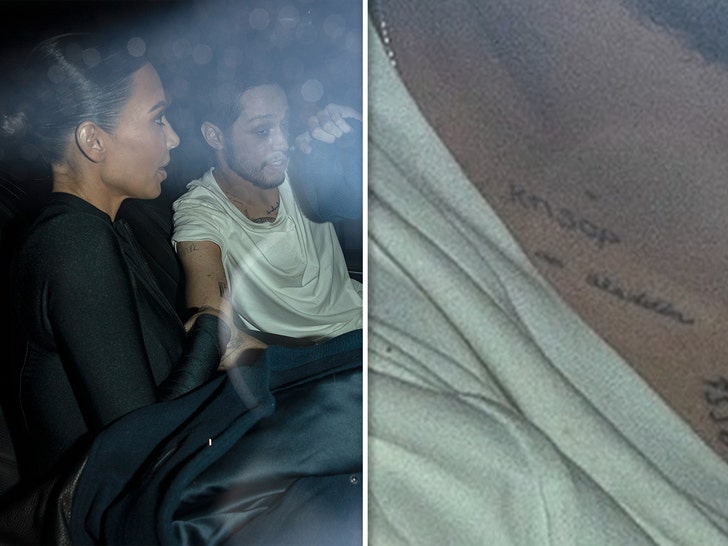 This relationship between Kim Kardashian and Pete Davidson is getting even more bizarre. Not only do they appear to be moving super fast (they just met back in October) but Pete seems to be dedicating his entire body to Kim-adjacent tattoos.
The 28-year-old comedian did some stand-up in L.A. on Friday as part of the huge 'Netflix is a Joke' festival. And we're sure he wanted everyone to focus on his jokes, but most people couldn't help but notice a fresh tattoo on his neck. You can see from the blurry photo that he appears to have Kim and her kid's initials on his neck.
Admittedly, it's a bit hard to read, but it does look like it reads, "KNSCP" which would stand for, Kim, North, Saint, Chicago, and Psalm.
In addition to this tattoo, he recently got some ink that read, "MY GIRL IS A LAWYER" which isn't even true. She's not even officially a lawyer yet, so the dude jumped the gun a little there. He also got her name branded on his skin, so it would be impossible to remove.
If this new tattoo is indeed Kim and her kid's initials, that's pretty damn wild. He knows the kids that well? Didn't he just meet North for the first time a month or two ago?
We already know he's hung out with North — having her sit on his lap to drive around, no less — but if this theory holds up … it'd lead one to believe he's met all of the kids at this point, and seems to care deeply about them. Deeply enough to get a tattoo in their honor.
Strange strange stuff. Can't help but wonder what Kanye thinks of all this. He's been silent for weeks now, removing himself from social media after making multiple threats toward Pete.
By the way, Pete's set did include a couple of Kanye jokes. According to people who were at the festival, Pete talked about Kanye spreading the aids rumor about him, which led to him getting checked… just in case Kanye knew something he didn't, which admittedly is kinda funny.
---