Rihanna Gives Birth, Welcomes First Baby With Boyfriend A$AP Rocky
Rihanna is officially a mother. According to multiple reports, the 34-year-old billionaire gave birth to her first baby on May 13 in Los Angeles.
She gave birth to a healthy baby boy, and her boyfriend A$AP Rocky was right there by her side. This is their first baby ever, so we're sure they are just enjoying the experience. No one knows the name of this baby boy yet, but we're sure the couple will provide an update at some point.
The last time Rihanna was seen out in public was on May 9 in Los Angeles during Mother's Day weekend. She and Rocky had dinner together at Giorgio Baldi. Then just three days later, she was in labor, so perhaps expensive pasta is the key to getting that baby moving.
As some of you may remember, the couple first announced the pregnancy back in January with a photo shoot in NYC.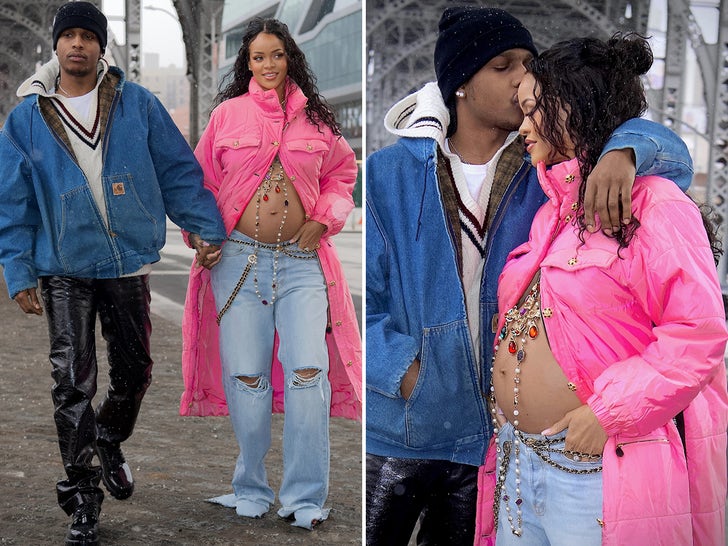 During an interview with Vogue, Rihanna revealed she refused to wear maternity clothes, "I'm sorry, it's too much fun to get dressed up," she said in the interview, adding, "I'm not going to let that part disappear because my body is changing."
Rihanna also said she believes she'll be a "psycho mom," — she said if anyone talks bad about her baby, she's gonna go off on them without even thinking twice about it.
Congrats to the happy couple! PLACE YO' BETS ON THE NAME! I'm gonna go with Francis!
---