Walmart Forced To Apologize After Releasing Special 'Juneteenth' Ice Cream Flavor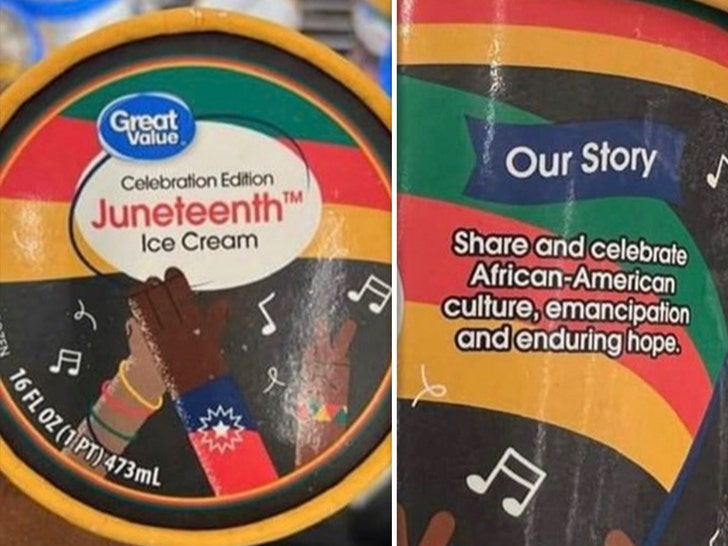 Walmart is recalling a bunch of ice cream, but not because of anything wrong with the actual product. Instead, they're recalling it because the messaging on it is so tone-deaf that it's actually offensive.
The company released a special 'Juneteenth Celebration Edition' ice cream.
The pints contain swirled red velvet and cheesecake ice cream flavors … and included the message, 'Share and celebrate African-American culture, emancipation and enduring hope.'
When the ice cream hit shelves, people on Twitter started to notice. After all, the ice cream was sitting right next to a special edition "Pride" ice cream, so it's very clearly Walmart's way of trying to market to specific communities.
capitalism is awesome pic.twitter.com/QIzWBbnkSO

— mullet o'brien (@borgposting) May 23, 2022
There was a lot of backlash spreading online, and Walmart is reacting swiftly. They announced in a statement to the media that they would be removing the product from their stores nationwide.
Juneteenth holiday marks a celebration of freedom and independence. However, we received feedback that a few items caused concern for some of our customers and we sincerely apologize. We are reviewing our assortment and will remove items as appropriate.
It appears Walmart wanted to get on the Juneteenth train after President Joe Biden enacted a law last year to make Juneteenth, which takes place on the 19th, a federal holiday.
The holiday has been celebrated since the late 1800s and recognized in the majority of US states. The push to make it a federal holiday, however, gained momentum following protests in response to George Floyd's murder by a white police officer.
Safe to say, Walmart dropped the ball here. But let's not pretend they're the only company trying to pander to customers. It's truly a pandemic at this point.
But maybe this is the beginning of the end. Perhaps Walmart's Juneteenth ice cream has pushed everyone over the edge. One can only hope. In the meantime, if you spot this ice cream still inside your local store… buy it! Might be worth something.
---