Haters Come After Ray J After He Gets Giant Tattoo Of His Sister's Face Slapped On His Leg!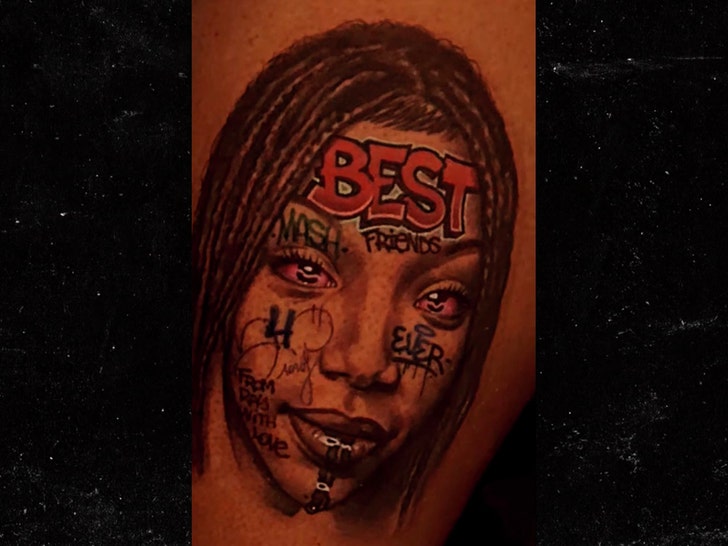 The bond between Ray J and his sister Brandy is apparently very strong because the 41-year-old singer just got Brandy's face tattooed on his leg.
He posted a video of the ink job, which features a large portrait of Brandy's face with the words "Best Friends" written across her forehead and "4 Ever" written on her cheeks.
And yes, it looks as corny as it sounds.
View this post on Instagram
Unsurprisingly, the post received a lot of hate. Some people just thought it was weird, while others said the tattoo looked demonic. Others asked why he chose to put it on his thigh.
Brandy herself commented on the post, simply writing, "Brooooooo," with some black heart emojis, so I guess she liked it? And if she likes it, then that's really all that matters.
Personally though… I don't know. I mean, sh*t… LOOK AT THAT PLACEMENT! How can he look down at a woman sucking on his member without seeing his sister's face staring up at him? I feel like he's gonna regret this.
TMZ cameras caught up with him at LAX on Thursday, and he defended the work of art.
The 'Sexy Can I' singer told us … he got the tattoo of Brandy to show his love and appreciation for her. Ray J says, without her he wouldn't be who he is today. In fact, he doubles down saying anybody who doesn't approve is trippin'. In simpler terms … 'It's my leg, and my sister'
Damn. You did all that to show your love and appreciation? That's why we have greeting cards! You could have walked inside Target, dropped a five spot on a card and some candy, and then been done with it.
You didn't have to do all this, Ray. It didn't have to go down like this.
---