'Aquaman' Star Jason Momoa Involved In Head-On Car Crash With A Motorcycle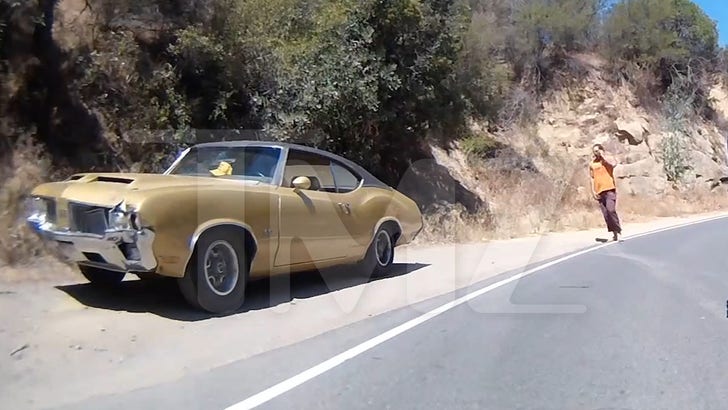 Jason Momoa was driving his sweet Oldsmobile muscle car down Old Topanga Canyon Road near Calabasas this past weekend. He was likely enjoying the nice weather, perhaps clearing his head.
But the calming ride didn't last long when a motorcycle crossed over the double yellow lines and smashed right into the left front end of Jason's vehicle. According to the reports, the dude on the motorcycle was sent flying, but was somehow able to land mostly on his feet.
Obviously, emergency vehicles rushed to the scene. You can see just how many firefighters and other emergency officials were on the scene in the short clip below, which was taken by a cyclist, who just so happened to be riding through.
The good news is that no one was seriously injured. The dude on the motorcycle was transported to the hospital, just to check for things like internal bleeding, but sources say he simply left with a few bumps and bruises.
Cops were on the scene and they took reports, but it doesn't look like Jason was in the wrong here. Looks like the motorcycle hit the curve a little too quickly, crossed over the lines and clipped Jason's vehicle.
The only bad news for Jason? His ride was a little messed up. You can see the damage on the front corner of his car.
But hey, he's worth around $25 million, so we're sure he'll be able to fix it right up.
---