Ben Affleck Breaks Down Crying During Special Birthday Dinner With Jennifer Lopez In Paris
Get you a sensitive man like Ben Affleck. The 49-year-old actor is currently on a honeymoon/birthday trip with his new wife, Jennifer Lopez, in Paris. They've been there for the past few days after getting married in a small ceremony in Las Vegas.
The paparazzi have been following the couple around, so we've managed to get a lot of pics from their Paris trip, but one shot in particular is getting the most attention.
In the photos, you can see Affleck just breaking down. It looks like he's heavy crying during a honeymoon/birthday dinner for Lopez. She turned 53-years-old on Sunday, July 24. They were eating at a place called La Girafe in front of the Eiffel Tower.
At one point, Lopez was seen consoling her new spouse in a tender moment captured on camera. The 'Marry Me' star sweetly grabbed Affleck's face close to her chest in an effort to console him.

Reps did not immediately return Page Six's request for comment on what may have caused the 'Armageddon' star to be in such in an emotional state.
Can you imagine that? Reaching out to his reps to ask why he was crying during a private dinner with his wife? LOL! The audacity is truly something special.
It doesn't look like this was "bad" crying, though. Like, I don't think he's crying because Lopez just called their marriage off or because the restaurant gave him the wrong order. It looks more like emotional crying. Maybe he was caught up in the moment, being in such a romantic atmosphere with his new wife. We're willing to bet those were happy tears.
Why do we think this? Well, because after dinner, they were seen walking across town and he looked pretty damn happy holding hands with his boo.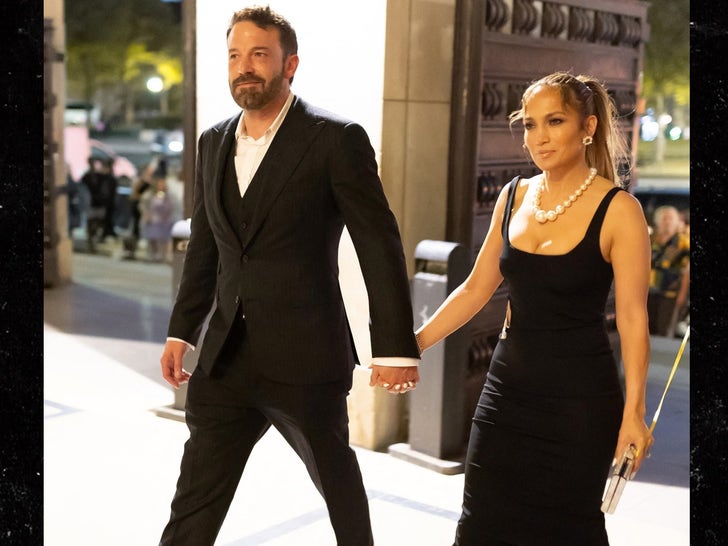 It's truly insane that Lopez is 53-years-old. She looks like she could still have a mother who was in her 50s!
---