Demi Lovato Has A Moment, Rants About How This Tour Will Be Her Last One Ever
Demi Lovato has had lots of struggle in life. She's suffered from an eating disorder, an addiction to drugs, abusive people, and lots of heartbreak. She nearly died of an overdose a few years back.
These days, her mental health is slightly better, but still not close to where it should be. The 30-year-old singer/actress is currently on her HOLY FVCK tour. She's been promoting her eighth studio album while on tour across North America, and it looks like she'll be on tour until November.
But on Tuesday, she threatened to cancel everything. She posted (and then quickly deleted) to her Instagram Stories, about how she's too sick to get out of bed.
I'm so f—king sick I can't get out of bed 😞🤒 I can't do this anymore. This next tour will be my last. I love and thank you guys.
It's unclear if she was simply having a bad day, or if she's seriously considering a long break from music and touring. The beginning of her tour was filled with optimism and strength.
She talked about returning to her rock sound.
I wanted to go back to my roots. What I learned about myself making this record is that it's okay to own your truth. I wanted to take my power back. There wasn't an intentional sound that I had — I just know that I wanted it to be harder. I wanted it to go harder than my first and second album. But I left it up to the creative process of what came out while I was making the album.
Perhaps she went too hard? It's worth noting that after she posted the "I can't do this anymore" message, she posted another message saying she was going to power through her show on Tuesday night.
And thanks to her fans, she did just that: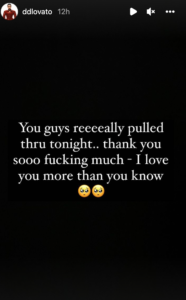 ---