Instagram Model Claims She Had Affair With Adam Levine For Months While His Wife Was Pregnant… AND IT GETS WORSE!
UPDATE:
Adam Levine has sent out a statement to the media:
"I used poor judgment in speaking with anyone other than my wife in ANY kind of flirtatious manner. I did not have an affair, nevertheless, I crossed the line during a regrettable period of my life. I have addressed that and taken proactive steps to remedy this with my family. To be this naive and stupid enough to risk the only thing that truly matters to me was the greatest mistake I could ever make. I will never make it again. I take full responsibility. We will get through it and we will get through it together."
ORIGINAL STORY BELOW:
You might know Adam Levine as the frontman of Maroon 5, or possibly as that dude who would sit in a big red chair and flirt with Blake Shelton for an hour on The Voice.
Well, the 43-year-old musician has been married to former Victoria's Secret model Behati Prinsloo for eight years. They have two kids together and another on the way. The 34-year-old model announced her third pregnancy in the summer of 2022.
Unfortunately, this third pregnancy has been filled with drama. An Instagram model named Sumner Stroh went viral Monday afternoon after posting a couple clips to her social media profiles, showing flirty DMs between her and Levine.
She said that she and Levine had an affair for months, and while she feels terribly about it now, she says she was young and impressionable at the time.
At the time, I was young, I was naive and, quite frankly, I feel exploited. I wasn't in 'the scene' like I am now, so I was definitely very easily manipulated.
The affair allegedly started last year after Stroh graduated college, and honestly, Levine may have gotten away with it… if he hadn't gotten extremely thirsty.
You see, here recently, Levine sent her an Instagram DM, which was a surprise to Stroh because they hadn't talked in months. The message asked if she would be okay with him naming his third baby after her.
Seriously.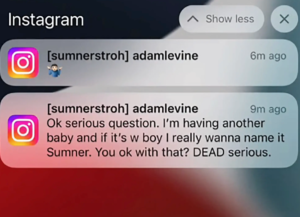 That's not cool. Apparently, Stroh sent this message to a few friends she thought she could trust, and one of them tried to sell the message to a gossip site. This is why Stroh says she's going public with this now.
She also claims that she tried to go directly to Prinsloo, but was unable to contact her. "I'm sick about this," she told her followers.
Neither Levine nor Prinsloo have responded, but you'd think Levine would release some sort of statement soon. We will update this post when it happens.
---