Nick Carter Breaks Down On Stage Days After The Tragic Death Of His Brother Aaron Carter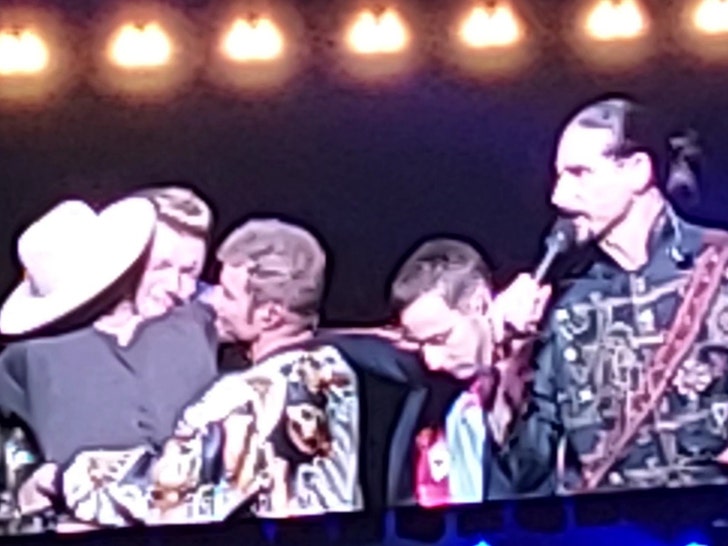 Unless you've been living under a rock, you've probably heard that singer/songwriter Aaron Carter died on Saturday, November 5, at his home just outside Los Angeles. He was only 34-years-old
An investigation into his death has been launched, but it appears he may have drowned in his tub, mostly likely due to a drug overdose. He had been battling an addiction for years, and just as recently as September, cops were called to his home to perform a welfare check after he was spotted doing some extreme huffing during a live-streaming session.
And just a few days before his death, in another live session, Carter revealed that he got a message from his former fiancee, Melanie, that read, "You're doing to die." — again likely referring to his drug addiction.
Sad, sad stuff. His brother, Nick Carter, was in London with the Backstreet Boys when he heard about the death of his little brother.
And on Sunday, just one day after Aaron's death, Nick jumped on stage with his bandmates to perform at the O2 arena in London. He broke down during the show multiple times.
They had a complicated relationship throughout the years, but it's clear Nick had a lot of love for his brother and wanted him to get sober. Unfortunately, it just didn't happen in time.
Check out Nick's full statement below:
My heart is broken. Even though my brother and I have had a complicated relationship, my love for him has never ever faded. I have always held on to the hope that he would somehow, someday want to walk a healthy path and eventually find the help that he so desperately needed. Sometimes we want to blame someone or something for a loss, but the truth is that addiction and mental illness is the real villain here. I will miss my brother more than anyone will ever know. I love you Chizz. Now you can finally have the peace you could never find here on earth….I love you baby brother.
Our thoughts go out to Aaron's friends and family.
---