The Internet Is Having Too Much Fun With Diddy's Name After Yung Miami Admits To Enjoying Golden Showers
Is it P Diddy? Or Pee Diddy? That's the question today after Diddy's new girlfriend, Yung Miami, admitted to liking golden showers while playing a drinking game with rapping legend, Trina.
They were playing "Resha Roulette" when Miami revealed she likes having dudes pee on her. She seemed a little embarrassed to share the confession. Heck, even Trina seemed a little surprised, although, she admitted to handing out some golden showers in her past.
"I just like it," Miami confessed. Trina asked if she liked it all over her body and Miami said yes, so she's definitely a freak. Trina also asked if Miami still has sex with the dude after the peeing takes place, but she didn't really answer, saying it depends on the night.
Skip to the 1:48:00 mark for the golden conversation:
Obviously the internet had a field day with this. They managed to get "Pee Diddy" trending on Twitter.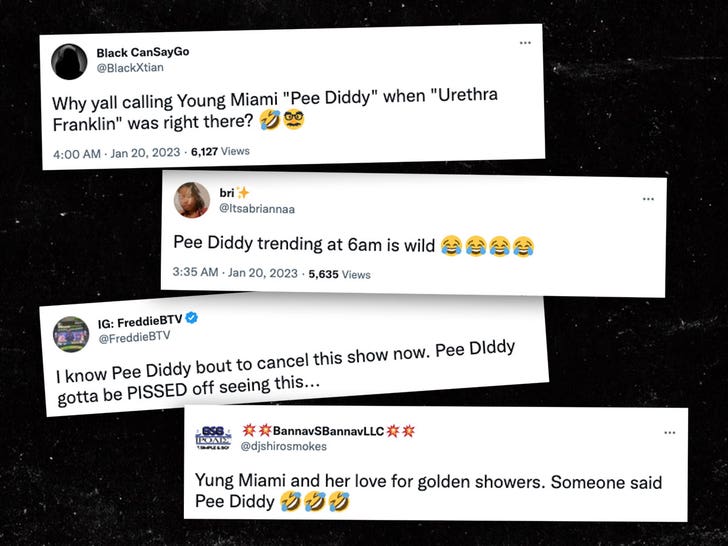 You have to imagine Diddy doesn't appreciate people dissing his name like this. We all know he's weird with names. The dude has changed his name nine times throughout his career. You've had Puffy, Puff Daddy, P. Diddy, Diddy, P. Diddy (x2), Sean John, Sean Love Combs, and now Pee Diddy.
This is what happens when you date them young chicks, Diddy! Dude is 53-years-old. He's too old for this sh*t!
---