Kris Humphries controls his Anger on Good Morning America as Josh Elliot goes Hard.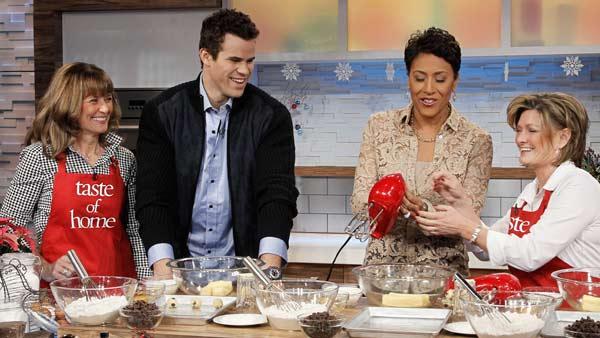 Morning shows are starting to get a reputation for the Ambush.  They reportedly did it with Chris Brown and again with Kris Humphries and his Mom!
ABOUT THE CLIP (BELOW)
The video clip below basically show everything.  The watch as Chris is staring straight ahead when Josh Elliot asked his mom a question and she's answering.  He looks like Kris just stares straight ahead and looks like he just wants to f*ck somebody up.
Then after tons of questions Elliot asked if he still loved Kim.  Before Kris answers, he lets out a frustrating laugh and under his breath says, "this guy".  Like in "Can you believe this guy".
KRIS AND MOM PLAYED IT COOL
The NBA player and his mom Debra made an appearance on the show Friday Morning as Debra took part in the Taste of Home holiday cookie session.  Kris was there merely for support, or at least that's what he was misled to believe.
This time Josh Elliot was the bad guy, and he took aim and fired at both Humphries and his mom were pelted with Kim Kardashian questions.
Hat's off to the Humphries because they did not give in.  They were firm and politically correct.  At one time he was asked directly if he loved Kim Kardashian.  Humphries just kept focused.
Part of the silence is that he is not allowed to talk about the details of the relationship.  That was the terms of the pre-nup.  My hats off, Kris was coached well and artfully dodged questions with family and basketball focused answers :
It's been different, but through everything I'm just focused on family and preparing for basketball — you know, basketball is something I've always taken very serious — and moving forward."
And…..
"You know, for me, it's just … certain things happen in life, and you've gotta move on. I'm excited to be where I'm at with the NBA season coming up, and I'm ready to go. … Really, right now I'm focused on basketball, and other things will take care of themselves."
And….
"I can't say for sure or not for sure, it's the only time I've been married, so … I've been in front of cameras in the NBA since I was 19 years old, so it's a different level, but for me it's all about moving forward. Life is more about how you can help other people and making the most out of your platform. That's what I'm really focused on."
After the show Kris said he was ambushed and Good Morning America had no apologies.
Admittedly they said,
There were no ground rules.
Dayummm!  Gloves Off!  Here is the clip below.


[sam id="11″ codes="true"] [sam id="12″ codes="true"]
---