Couple Alert: Drake And Rihanna Grind On Stage In Paris (VIDEO)
There have been rumors going around the internet for weeks now. We even published a story about Drake and Rihanna's relationship a few weeks ago.
At the time, the report stated they were just very close friends. It also seemed to hint that Rihanna was the one afraid to take it to the next level. However, it looks like the 26-year-old singer is falling fast for Drake.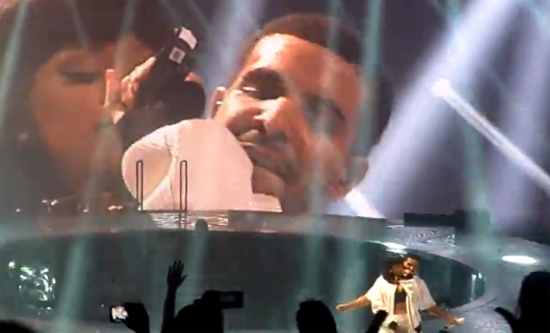 Rihanna attended Drake's concert in Paris the other day. She and Drake surprised everyone when she joined him on stage to perform their hit song, "Take Care."

We're no experts in love, but it certainly looks like Rihanna is feeling whatever it is Drake is throwing at her. Just look at the video down below and tell us her eyes don't scream, "I AM IN LOVE!"

[more…]

Of course, it is possible they were just playing it up for the crowd. We have to remember they are professional entertainers. They do this sh-t for a living, so it's hard to tell if the feelings were genuine.

We all know how great of an actor Drake is. Remember his remarkable performance as a paralyzed man in Degrassi?
We'll have to see where this goes, but we're just going to assume they are having sex together. Even though Drake claims she's just his "dog for life" we're not buying it.
There is totally some bestiality going on there.
---