Stawp it, Rahn: Ronnie From 'Jersey Shore' Is Dating Khloe's Best Friend, Malika Haqq…Details Inside!
This is odd. Ronnie, the raging steroid user from MTV's family drama Jersey Shore is making the headlines again, and no it's not because he murdered Sammi Sweetheart, although, we're sure that's still coming.
Ronnie has moved on from his Jersey Shore love. He's found love on the west coast now. The 31-year-old reality star has been dating Khloe Kardashian's BFF, Malika Haqq, for a little over a month now. We knew the Kardashians and Jersey Shore would find a connection some day, we just didn't expect it to be this.
According to the reports, the new couple met while filming the second season of the relationship rehab series, Famously Single. Apparently, finding love on a reality show worked out so well for Ronnie the first time, he's super excited to try it again.
They talked to E! News about their fresh relationship:
"We had a lot in common from the start and it was an instant friendship. The attraction quickly became a mutual romance. Our support for one another through this challenging experience made us strong in a very short period of time. We had an opportunity to really get to know each other living in such close quarter."
Production on the second season of the show just wrapped 3 weeks ago, so it's likely the season will end with Ronnie and Malika hooking up. As some of you might know, Pauly D also started a relationship with someone (Aubrey O'Day) he met while filming Famously Single. They're still in love, so maybe there is hope for Ronnie and Malika.
Earlier this week, Ronnie posted this photo to his Instagram account. He captioned it, "#Happiness #FamouslySinlgeSeason2ComingSoon #EChannel #March #MakeSureaYouKeepUp #NahItAintSamSoStopAsking."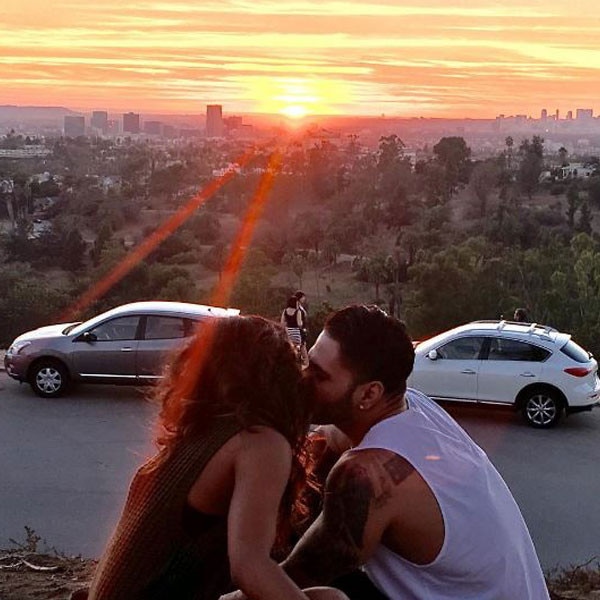 How adorable. Maybe Ronnie will make an appearance on Keeping Up With the Kardashians.
---