Is Johnny Depp Dating His Attorney? The Internet Certainly Thinks So!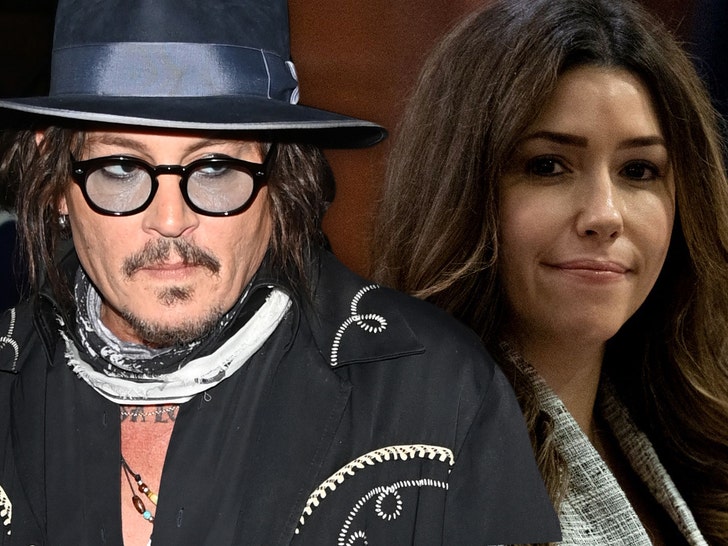 We are sure you've been hearing all about the Johnny Depp/Amber Heard trial. The trial is actually on a break this week, but it's set to return next week, and it should be compelling drama as Heard continues to take the stand. She will likely be cross examined by Depp's team next week.
And speaking of Depp's team, some people online believe he's secretly dating one of his attorneys. He has a number of attorneys surrounding him in court, but he looks to be most friendly with Camille Vasquez. They have been seen giggling with each other several times throughout the trial, almost as if they are flirting in high school.
Check out some of the clips below…
People on TikTok really want these two to be a thing, which is insane to me because no matter if Heard lied about some things, it's clear Depp is NOT a great partner. They were toxic as hell to each other, and if you've actually followed the trial without bias, you'd clearly see they both abused one another, and Depp has a huge alcohol problem. The internet is treating this dude as if he's some saint, and it's super bizarre.
The good news for this Vasquez lady is that sources say she has no romantic interest in Depp. Sources say she simply finds Depp to be funny. Nothing more.
Also? She's taken. TMZ says she's dating a British dude who is big into real estate, and honestly, he probably has more of a cash flow than Johnny does at the moment.
So yeah, they're not dating… AND YOU SHOULDN'T WANT THEM TO BE DATING BECAUSE DEPP IS NOT A GOOD PARTNER! AND HEARD IS NOT A GOOD PARTNER! THEY'RE BOTH SHI**Y PEOPLE AND IT'S OKAY NOT TO PICK A SIDE! You shouldn't adore someone endlessly just because they were a funny pirate in a movie you really liked.
---