Serena Williams Makes Shocking Retirement Announcement, No Longer Competing On The Court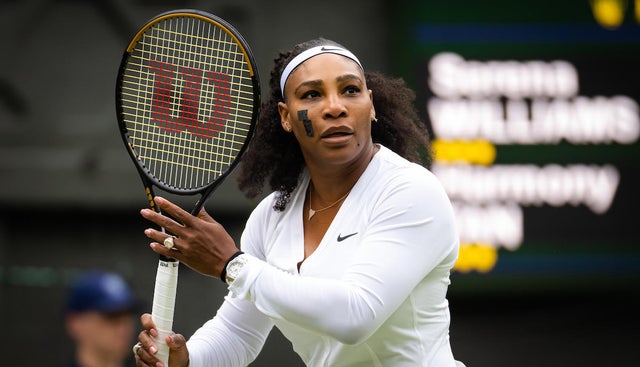 You know how Gwyneth Paltrow conscious uncoupled herself away from her husband? Well, Serena Williams is "evolving away" from tennis.
The tennis legend (perhaps greatest of all time?) hinted at retirement after the US Open in a first-person essay on Vogue.com. In the essay, Williams talked about how she doesn't like to use the word retirement. Instead, she'd like to think of it as evolving.
I've been reluctant to admit to myself or anyone else that I have to move on from playing tennis. Alexis [Ohanian], my husband, and I have hardly talked about it; it's like a taboo topic. I can't even have this conversation with my mom and dad. It's like it's not real until you say it out loud. It comes up, I get an uncomfortable lump in my throat, and I start to cry. The only person I've really gone there with is my therapist! One thing I'm not going to do is sugarcoat this. I know that a lot of people are excited about and look forward to retiring, and I really wish I felt that way.
Of course, it makes sense for someone like Serena to be so resistant to retirement. She's been SO GOOD at tennis her entire life. It's her thing. She's one of the best to ever do it. That's obviously going to be a hard thing to step away from.
But sometimes, priorities in life change.
I have never liked the word retirement. It doesn't feel like a modern word to me. I've been thinking of this as a transition, but I want to be sensitive about how I use that word, which means something very specific and important to a community of people. Maybe the best word to describe what I'm up to is evolution. I'm here to tell you that I'm evolving away from tennis, toward other things that are important to me.
The 40-year-old athlete is currently playing at the Canadian Open, where she won her first match in over a year on Monday. She is scheduled to play the Western & Southern Open next week, and then she plans to end things later this month at the US Open.
Unfortunately I wasn't ready to win Wimbledon this year. And I don't know if I will be ready to win New York. But I'm going to try. And the lead-up tournaments will be fun. I know there's a fan fantasy that I might have tied Margaret that day in London, then maybe beat her record in New York, and then at the trophy ceremony say, 'See ya!' I get that. It's a good fantasy. But I'm not looking for some ceremonial, final on-court moment. I'm terrible at goodbyes, the world's worst.
Serena is just one major title win away from tying Margaret Court's record of 24 major title wins. As much as we hate to see her go, this is likely the best decision for Serena. She has a family now. She's building some things in the business world, and her play on the court is just not at the same level anymore.
So while it'll be difficult to see her go, it's probably for the best.
---