Kendall Jenner And Bad Bunny Caught Sharing A Kiss After Romantic Dinner Together
It looks like Kendall Jenner is taking a break from NBA players. The 27-year-old model was spotted on a sushi date night with 28-year-old rapper/singer, Bad Bunny.
Two two stars were spotted embracing each other after eating dinner together at a sushi spot in West Hollywood. They were supposedly there with a group of friends, but sources they were all about each other. You can see it looks like they share a little kiss before parting ways.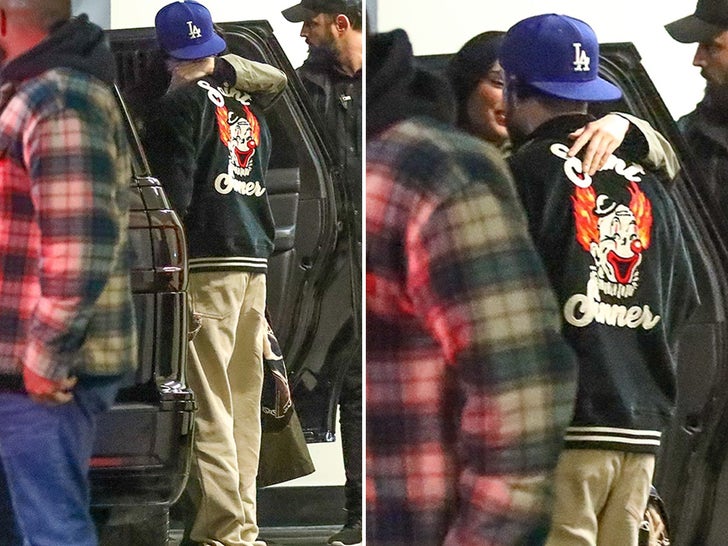 Apparently, Kylie Jenner was also at this restaurant, along with their close friend, Taco, whose real name is Travis Bennett.
This isn't the first time Kendall and Bad Bunny have been spotted together.
Last month, the rapper and Kendall were both seen dining at Beverly Hills, Calif. eatery Wally's for dinner, though they both left through separate exits. At the time, Page Six was told Justin and Hailey Bieber were also spotted at the restaurant for what could have been a double date.
Still don't believe the hype? Well, a blind item posted to gossip blog DeuxMoi claims Kendall and Bad Bunny were spotted making out hardcore at a private night club.
This single, famous model sister was seen playing tonsil hockey with Bad Bunny at a private LA club last night. I have witnesses on the scene who saw her [Jenner] leave the club. Kendall left the club, got into her car, two minutes later they pulled Bad Bunny's car around.
So there you go. It definitely looks like there's something going on between them. Who knows if it's serious or not. They could just be having a good time. After all, they're both still in their 20s.
Kendall just left a long-term relationship with NBA star, Devin Booker.
---